Your locally owned and operated renewable energy product distributor
History
We are a veteran in the distribution industry with over seventy years of service to the capital region and beyond. Century Solar Supply operates out of a 25,000 sq ft warehouse located at 2600 Sixth Avenue in Troy, New York. Bejian Century Supply was established in 1945 as a heating and cooling distributor and has had great success in upstate NY. In September of 2012 Bejian Century Supply started a renewable energy division to help New York continue developing and integrating renewable energy in the state.

Mission

Century Solar Supply is committed to reducing our dependence on non-renewable energy and creating a sustainable environment. By reducing our carbon footprint through the integration of renewable energy, businesses and jobs are being created stimulating our economy. Individuals and commercial and public entities are given the power to reduce their impact on the environment, energy costs, and reliance on others. Our goal is to bring this socially and economically incredible resource to New York State and beyond.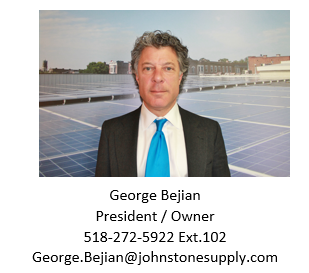 George has been a Capital Region native his entire life. His father started a heating and cooling supply company in 1945 called Bejian Century Supply. Since then his father and George have experienced great success in the Capital Region. In 1989 Bejian Century Supply with the direction of George became an owner of Johnstone Supply- a nationwide HVAC/R supplier. A leader in his industry, George was the first to bring Johnstone Supply to the Capital Region and has now created the first Renewable Energy Supply Company of its kind to New York. George has dedicated his entire career for over forty years towards distribution and logistics. His knowledge and commitment to customer service separates Century Solar Supply from all the rest.
Carly, George's daughter, was born and raised in Troy, NY. She attended Hudson Valley Community College where she earned an Associate of Applied Science. She joined the Century Solar Supply team in January 2015 to continue her support of the family business and the growing renewable energy industry.